Content Copyright © 2000-2020. All Rights reserved.






Piper is an Elfi and Pike Puppy:

Wow Rox, what an amazing little girl you have given me she is super smart and is doing so well at everything i teach her! she now sits, lays down, shakes both paw, barks on command and is an alligator for the tug!! She also knows what 'kennel up' means and hasn't made a mess in the house since the first... week we brought her home. She cries to go out every time. She is such a beauty too! I cant wait to see what she develops into. This is definitely a pup to be proud of!
Cass
Red Deer, AB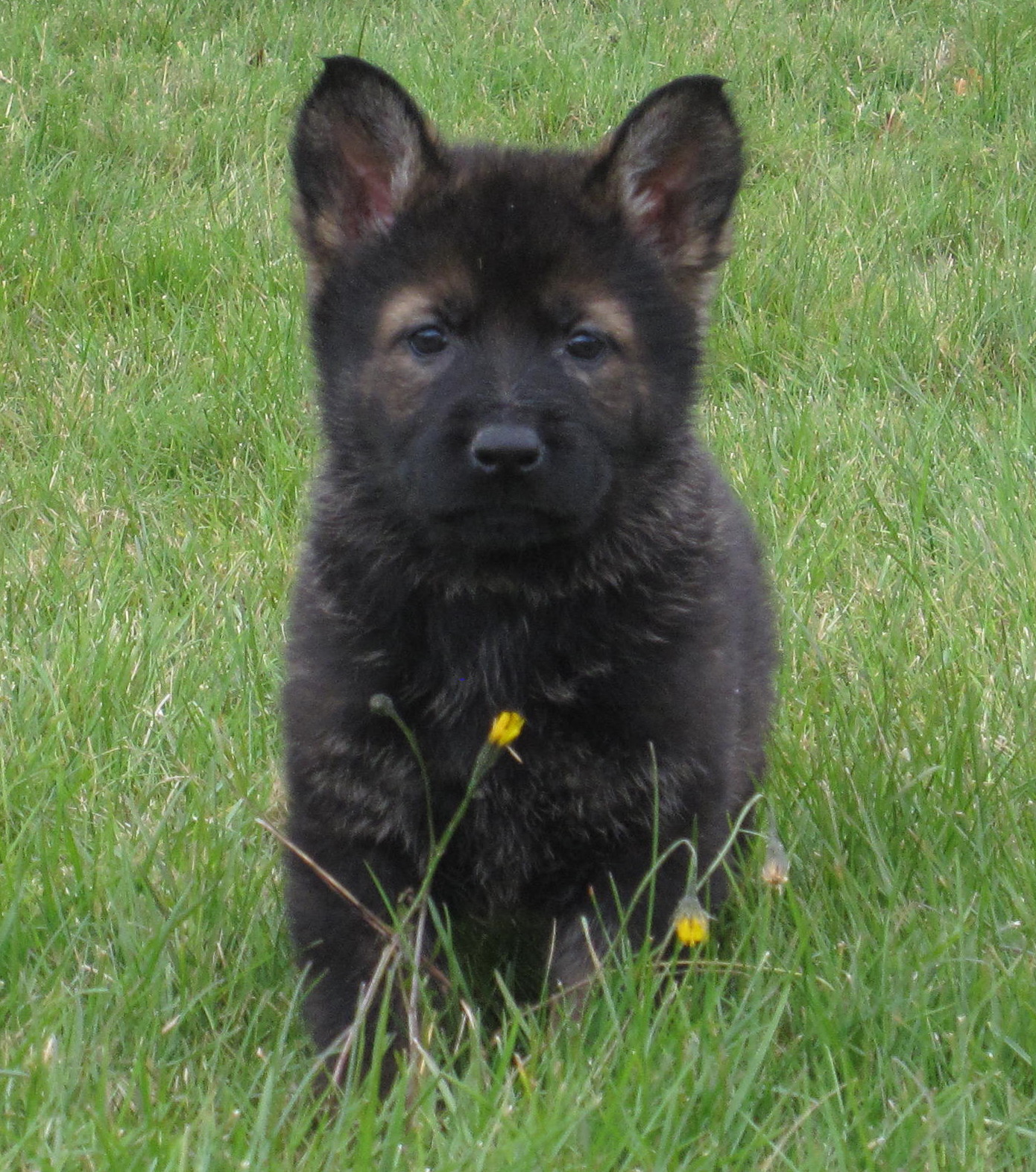 U P D A T E ! ! !
Lady Samboya is an Elfi & Pike puppy
My dad is just very excited to have such a wonderful dog; she is most definitely of dominant nature, smart, and lightning fast, while on the other hand, she can sleep comfortably with a 3 year old lying on top of her during the day!
Samboya will be in Calgary September 28/29 to try and get her TD (Saturday) and TDX (Sunday) CKC tracking titles.
Again, thank you for everything. We'll stay in touch.
Ewa
Cranbrook, BC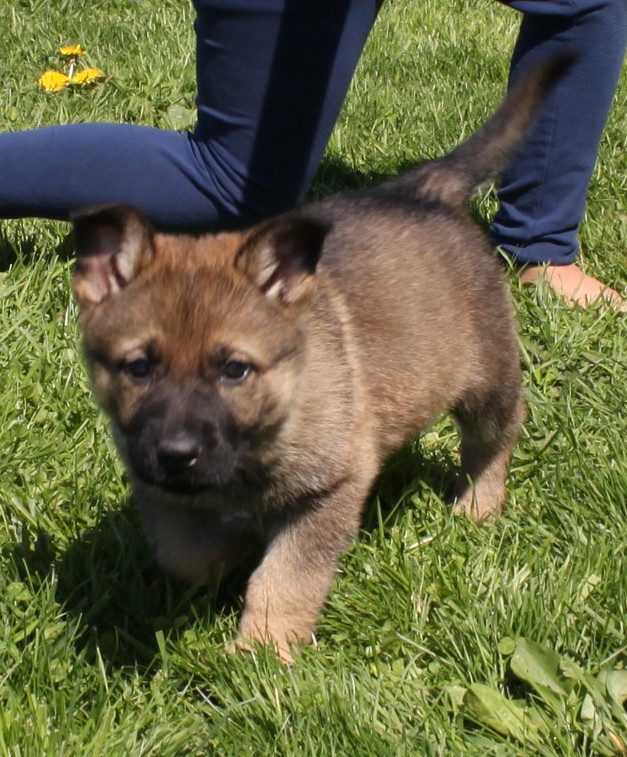 U P D A T E ! ! !
Stormymagic's Lady Samboya achieved her CKC Tracking Dog Excellent title from the CKC this last spring. We are very proud of both of you !!!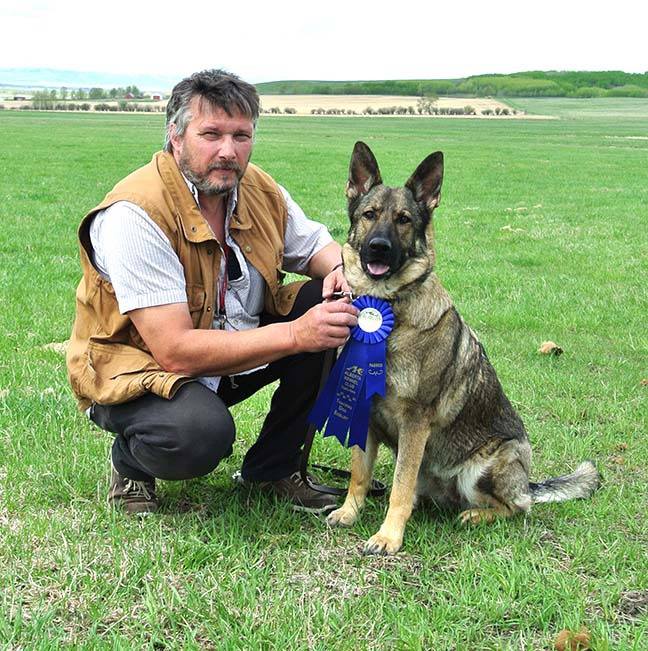 3 years old
6 weeks old

?Nika is a Farrah & Pike female
This was just too good a picture not to share. Hope all is well with you. Nika is doing great although on the weekend took off on me twice in the same day which hasn't happened in a long time. Very frustrating! Lol. She can certainly be a little bugger sometimes but she's got such a comical personality that it's impossible to be angry with her. She loves to run and fetch more than ever and is up to about 63 pounds which I'd say is her perfect weight by the look. She's got a small frame but is strong as an ox (and as stubborn as one at times).

Trevor
NB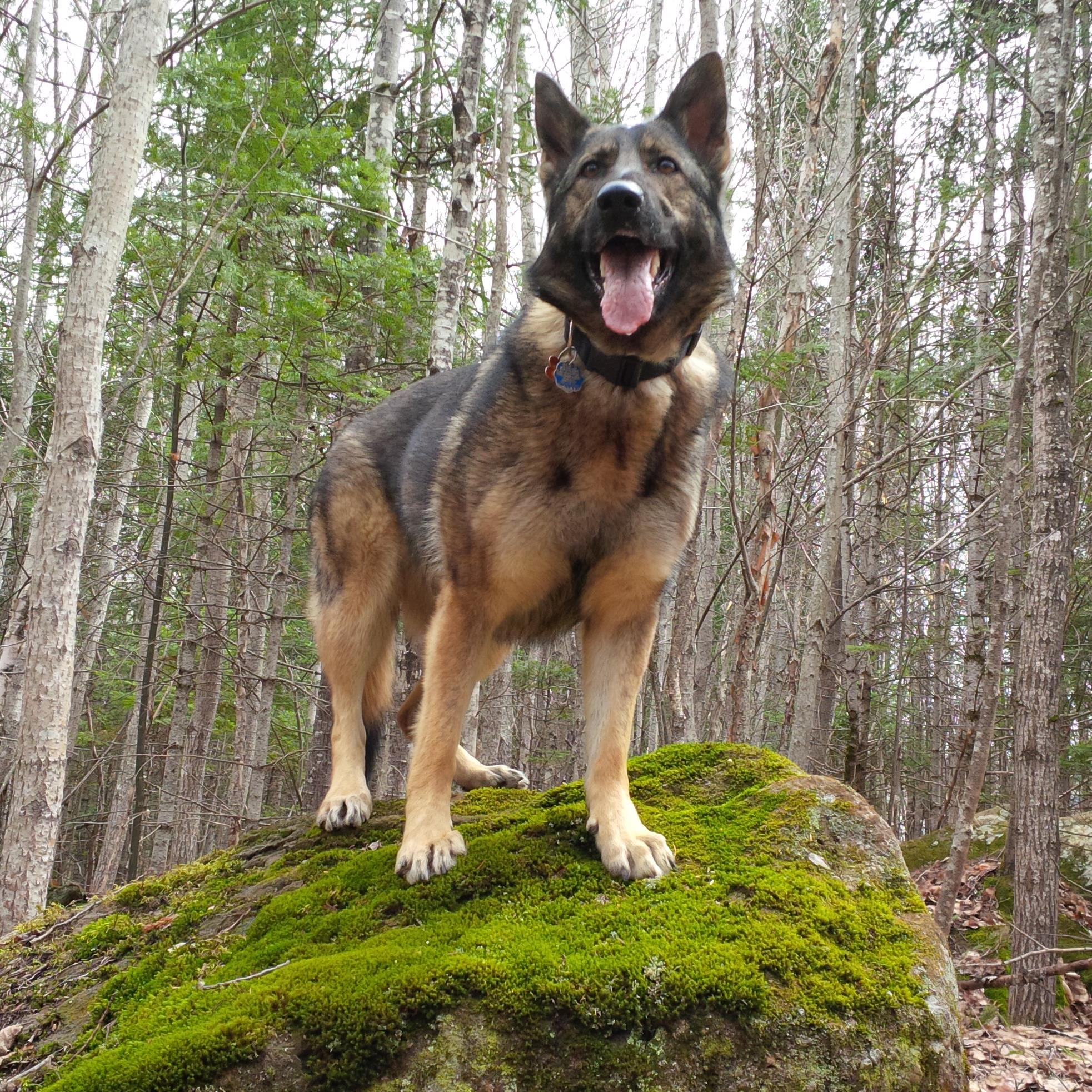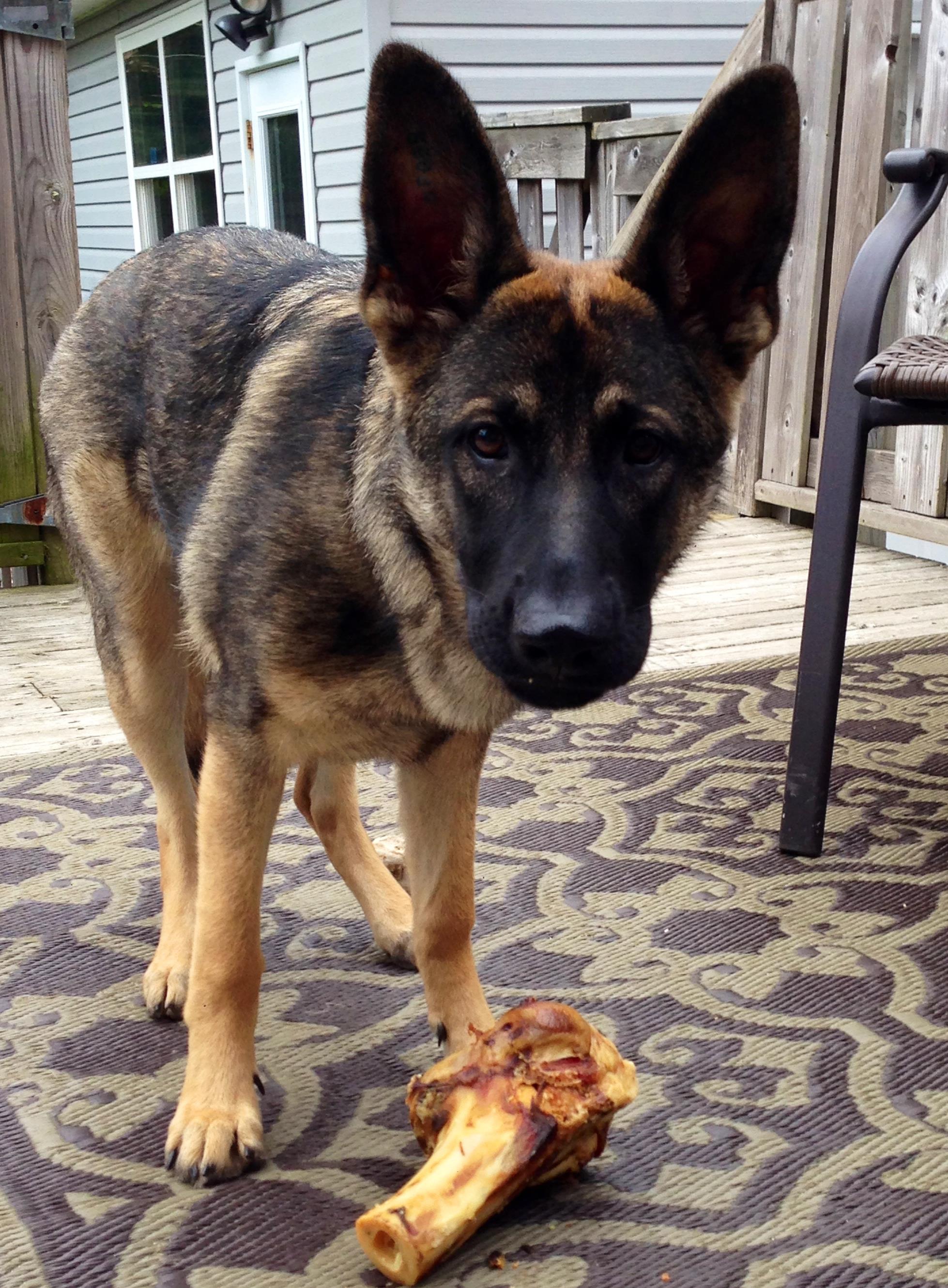 Sacha is a Bella & Ex female
Hi Roxanne, here are a few pics of Sacha taken this past week at 5.5 months old. She's absolutely stunning, and so smart!

She still plays in her pool every day and loves chasing moths and mosquitos around in the grass.

Hope your family is all doing well!

Christa, Nate, Alison & Sacha

Xeva is a Reeka & Ex female
Hi Roxanne ,
Thank you so much for the great day picking up Xeva. She is settling in well and really only had one rough night. Getting a routine down and she is really smart. Sitting on command, following me off lead, playing ball, and just a great temperment! She had made some new dog friends already at the park outside my place. I will keep you updated and send you pics!

Penni
NB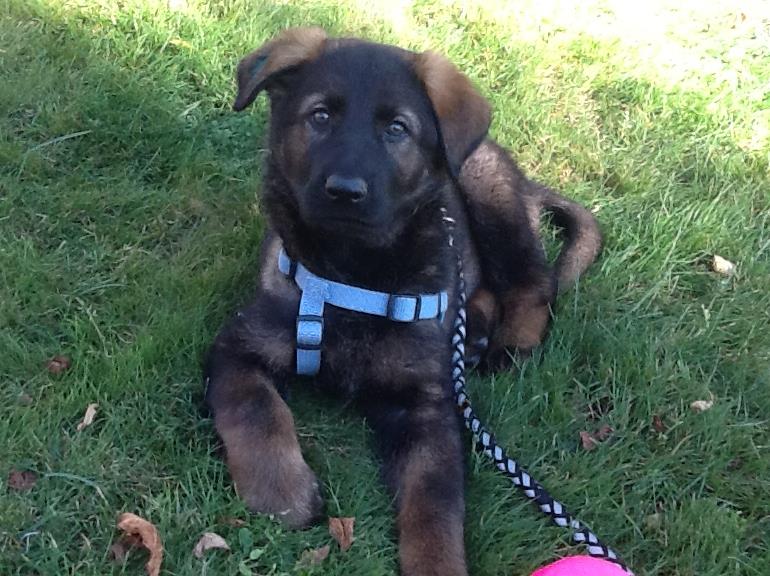 Sadie is a Farrah & Ex female

It's been 10 months since we got Sadie and I must say got exactly what I asked for. Looking for a puppy to start Schutzhund (IPO) can be a difficult task and you've helped me from our first conversation. The puppy I received was intelligent, strong, resilient, but most importantly had a solid temperament. Sadie has a high prey drive and high energy which is exactly what we discussed before she was chosen for my home. In Schutzhund Sadie's obedience is coming along, she does excellent nosework while tracking and for protection she has a deep calm bite.

Aside from getting a phenomenal puppy you've been there to guide us along the way. You were able to assist us with natural remedies when we had gotten bad vet advice. You've been there to advise us on any development questions we've had. It's good to know when you purchase a puppy from StormyMagic Shepherds you're not forgotten and left with your dog. You're always available and willing to assist with any questions day or night. You constantly update the StormyMagic Facebook page so we owners can continue to learn and ensure the health and safety of our dogs. Again, thank you for the remarkable puppy and ensuring the appropriate genetics and traits remain within the German Shepherd breed.

Tim and Melissa
Eastern Passage, NS
Hey Roxanne,
Realized it's been a while since I've sent a pic of my baby girl. She got in a little scuff with my neighbour's 120 pure black German Shepherd the other day (they're normally great friends but he didn't like her touching his toy). She's all of 65 pounds and she took him down like he was a chihuahua, lol. I know she could take down a grizzly bear for me if needed so she packs a ton of power in her small frame. This has been the hardest year of my life and she's been beyond amazing, I love her more every day even when I think that isn't possible.
Hope all is well with you.
Trevor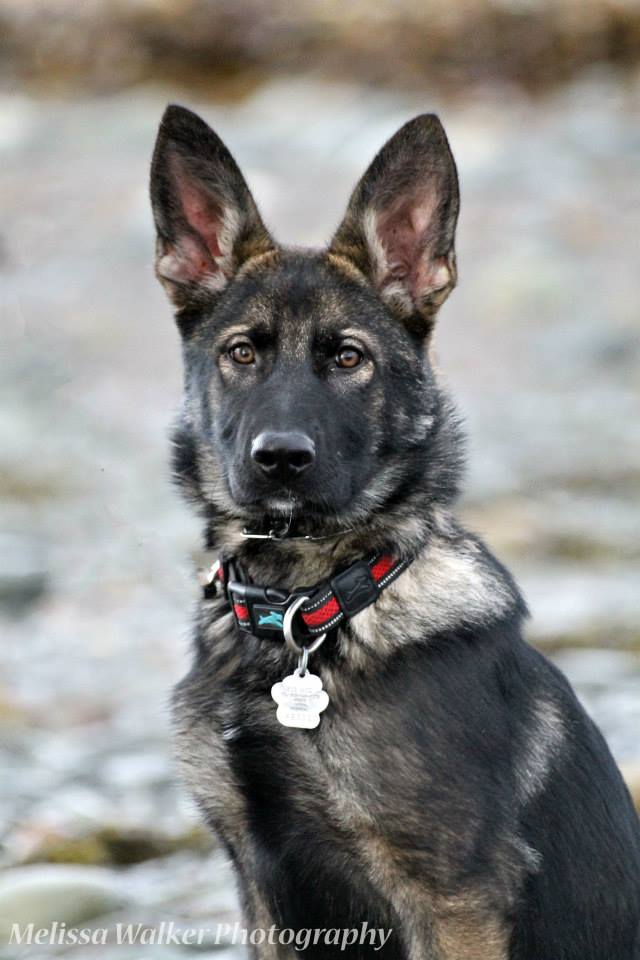 U P D A T E ! ! !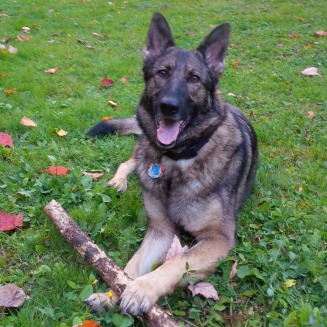 Ember is a Bella & Ex female

Hi Roxanne,

Ember has quite the personality and endless energy! She has high ball drive and loves to play fetch. Ember is very social and loves to meet new dogs and people. In her "down time" she enjoys belly rubs and chewing on elk antlers. We are so grateful to have Ember as part of our family. We are also very appreciative of all the advice we have received along the way so far from Roxanne. Any questions we've had, she has gone above and beyond to help us.

Happy Holidays!

Robin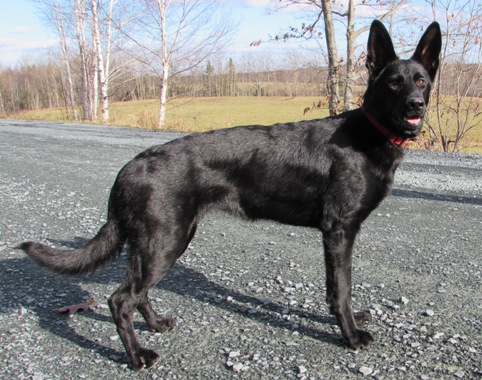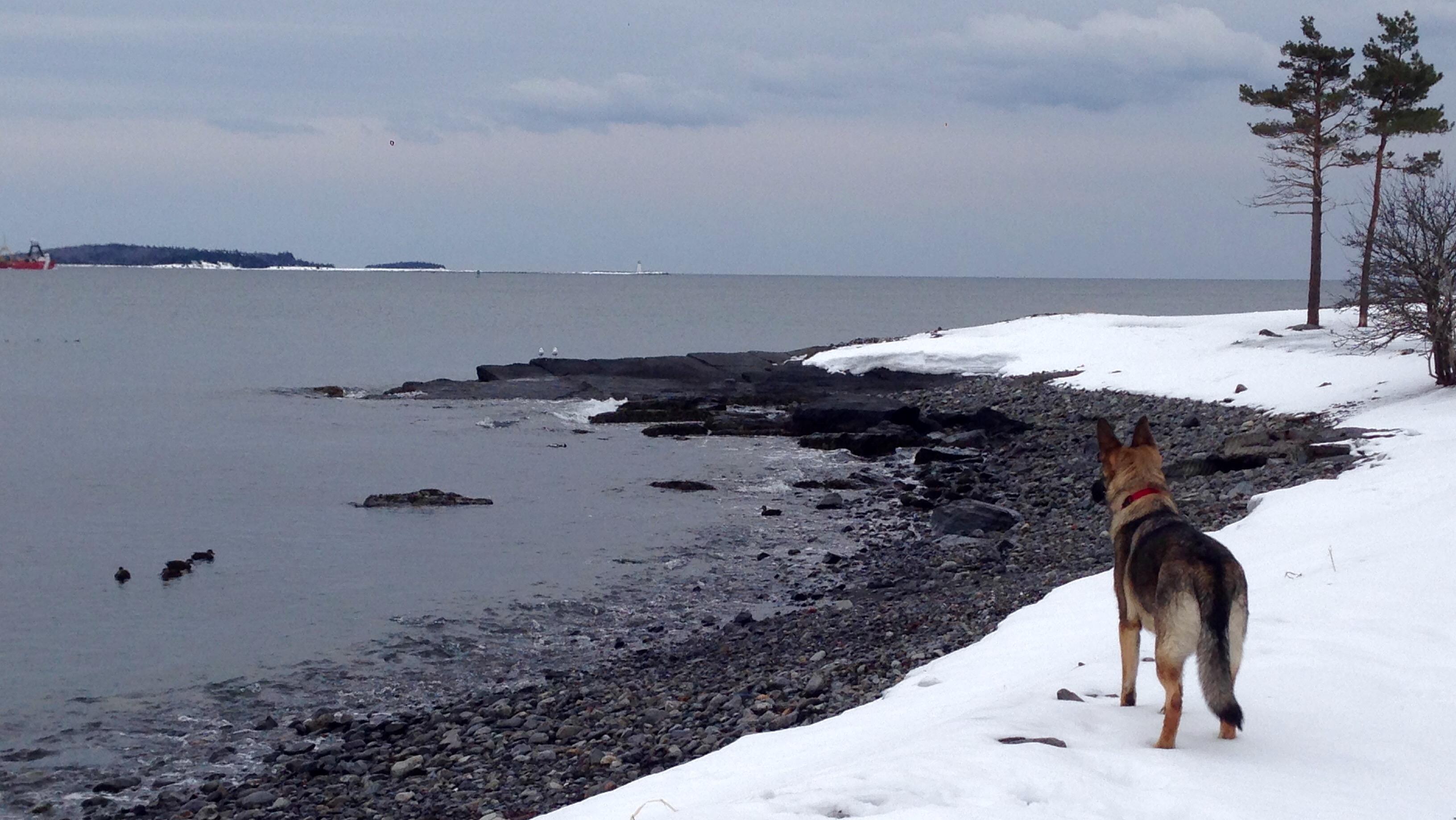 Hi Roxanne!

Hard to believe Sacha will be 11 months tomorrow!

She's doing great! Weighs in at 67lbs now! We've been doing a lot of off-leash runs and making tons of friends. She's very social, and LOVES the snow!

I'm attaching a few pics from our walk today. Once the ice melts, Sacha and I will begin our race training. She's going to be my partner next fall. It's been great for our relationship.

Hope you and your family are all doing well.
Nova is a Farrah & Ex female

Hi Roxanne

Just got your holiday tips email. Thanks. That reminded me to send some recent pictures. Nova is about 80 lbs and doing fantastic. Truly a great dog in every way. Great with other dogs and kids.

Have a Great Christmas

Steve and Lee